Kids Bike Test – How To Buy Kids bicycles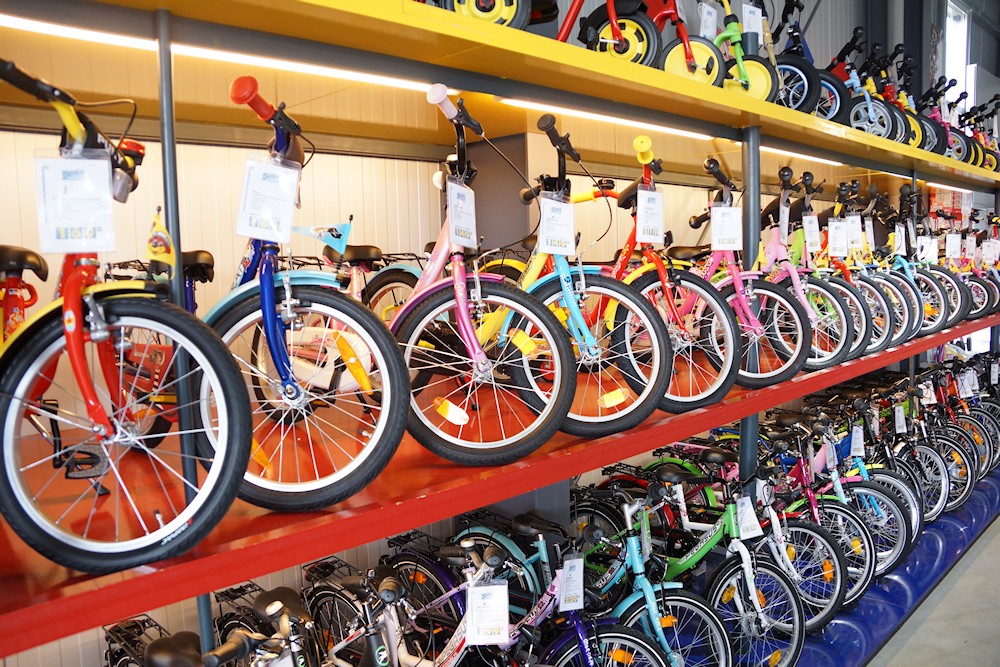 If the impeller is too small, the motor skills have been strengthened and the first children's bike to be bought, one is faced with the question of which children's bike is good and what to look for before buying. In children's bike test we investigate these issues on the ground and tell you what's important. In addition to questions about the right size, we also deal with the fundamental question of whether to buy a children's bike needed or not.
Which is the right size for the child's bicycle
The right frame size is the key to proper bicycle. Here we have one for you Frame height calculator . Measure the inseam and enter the values.
12 inch and 14 inch bikes
They are almost exclusively for because to get used to the child on the bicycle. learning to handle and to convey the feeling that you no longer like pushing off the wheel but now occur in the pedals. Training wheels almost inevitable (Regardless of whether it makes sense to learn with or without training wheels to ride a bike.)
16 inch children's bikes
You have most to secure the possibility of supporting wheels, often missing here, however, a lighting system or necessary reflectors.
18 inch children's bikes
They are hardly distinguish the smaller 16-inch models. Because not all children learn with a 16-inch wheel, the bicycle, the 18-inch bikes usually have the option of supporting wheels and the lack of lighting units. 18 inch bicycles seen but rarely with training wheels.
20 inches Bikes
They are often roadworthy and can already have a hub dynamo or a gear shift. Most of the age in which the children come from the nursery and go to school.
22 inches Bikes
They are very happy to be skipped, the difference from the 20's is not large and the time to 24-he does not take long. The children are in a growth phase in the jump from the 20's to the 24-he certainly may be only a few months.
24 inch bike
24 inches is it then from the 3 or 4 class. The child has a certain sense of responsibility and can handle the wheel. perhaps it moves already alone to school and uses the bike in the afternoon to meet with friends.
26 inches and the time goes by so fast
Almost small adults, considering that diminutive people partially switch to a 28-er bicycle.
| Older | inseam | height | in size |
| --- | --- | --- | --- |
| 2 to 3 years | 40 cm | 98 cm | 12 inches |
| 3 to 4 years | 44 cm | 104 cm | 12-14 inches |
| 4 to 5 years | 48 cm | 110 cm | 12-16 inches |
| 5 to 6 years | 51 cm | 116 cm | 14-18 inches |
| 6 to 7 years | 55 cm | 122 cm | 16-20 inches |
| 7 to 9 years | 59 cm to 62 cm | 128 cm to 134 cm | 18-20 inches |
| 9 to 10 years | 66 cm | 140 cm | 20-24 inches |
| 10 to 11 years | 69 cm | 146 cm | 22-24 inches |
| 11 to 12 years | 72 cm | 152 cm | 24 inches |
| 13 to 14 | 77 cm | 164 cm | 26 years |
Deviations are possible, the table serves only as a guide. It should always be decided according to individual criteria. [Personal developments and progress except – We know that it is much further Maximilian]
Buy a used children's bike
Who decides in favor for used children's bicycles to search, which should keep a few things.Explore our article "Buying a used bike" on – we can really to look exactly recommend for used wheels. Does the bicycle defects, estimate the cost of repairs from and compare the total cost with the cost of a new purchase. Ready Kids wheels get already from 140 euros.
Advantages to buy a used children's bike:
Lower cost
Possibly stock since bought about Kleinanzeiger
Disadvantages to buy a used bike
No guarantee or warranty
Possible damage to the wheel can remain undetected
Repairs before use possible
Traffic safety in children's bicycles
The smaller road users, the worse they are seen by other road users. Especially children are on the bike yet inconspicuous as adults, one more reason that a child's bicycle in all circumstances be roadworthy should. The travel on the road is a challenge for many children, this is just the beginning and a lot of fear and respect exist. Does uncertainty and lack of driving experience on a bike is not fully functional, this can unfortunately end up very angry.
Quite often very simple brakes and brake levers are installed at 12-16 inch wheels. Even as an adult you have here often much force applied to the brake shoes to get to the rim. Make sure that your child can fully apply the brakes from eingener force and pull.
Our tip: Buy a used bike, give it before use for the inspection in an approved workshop.
Look over function
Especially for children it is particularly important to ride a cool bike, this should in no way compromising the function. Ergonomics and health play an important role in small adults.Who goes permanently on the wrong bike, may well carry health complaints thereof.Especially in the period of growth and in combination with a heavy schoolbag high loads may occur. Check out our sales about bicycle basket for schoolbags on. Distance from the seat tube to the handlebar and a straight seating position determines fun or need to want to ride a bike.
Lieber buy too large a bike, or not?
Children grow fast and it's always a guessing game when the next growth spurt occurs. Many parents therefore tend to buy a bike that is too large and that the child is still "grow into" needs. Too large a bike can not just take the joy of cycling, it is also very dangerous. If their child for example when holding not sure on the floor, dangerous situations can occur. There is a reason why you can determine the right size, not so ignoring this.
A new children's bike often costs a lot of money
Just because you do not know how long it can take the child on a bicycle, most parents have a great aversion against the purchase of a children's bike. This is of course understand, you are 200-300 euros on a bicycle, do not want to buy in 6 months a new one.
Nevertheless, we can not advise against it, a new bike has many advantages:
The bike is ready to use and roadworthy
There is a guarantee and warranty
High resale value, since many search for used wheels
Current and functioning technology
Even if the child after 6 months is too small for the bike yet, the resale value of the guarantee and the current model is quite high. Also who buy used wheels, gets more money than for the new bike in rare cases for the old bike.
When dealer you can get a good perhaps bicycle lock or a bicycle helmet out act. Is the used bike no lock off here further costs come to you.
Nevertheless, we enter the Note, a new cycle should not be purchased if the Scion already has some sense of responsibility. Who buys used, should at its dealers around the corner to ask if there also used wheels are traded.
Various children's bicycles
Children Bicycle test – Conclusion
In the end it is of course every left alone if he looks at the new or used children's bicycles.Importantly, if you buy the bike, listen to your child and your gut feeling. If it tells you on the test drive that the bicycle does not fit properly, do not ignore it. Do not you have to go with it, but their offspring. Even if the purchase is often a financial issue, think carefully about what still draw any repairs to costs.
Always make a contract in which the frame number is entered by bicycle. You can also add some handwritten Post in stating how much money was paid for that bike. Set this contract away well and show in front of him, if you come in a necessary situation.